ORIT Ltd.
TECHNOLOGICAL RESEARCH & DEVELOPMENT CENTER
Israel boasts a wealth of talented scientists, academicians and engineers who are achieving technological breakthroughs and innovations at an astounding pace. To help foster and enhance their potential, the Israeli government has taken several meaningful steps, among them the establishment of Technology Incubators. The purpose of these Incubators is to assist and support R&D start-up industrial enterprises in their initial stages until they can stand independently.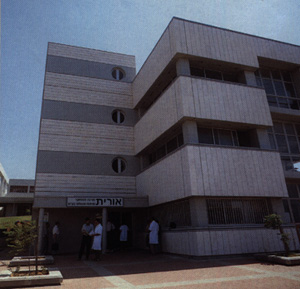 One such Technology Incubator is the Orit Technological R&D Center in Ariel. It was originally founded by the Municipality of Ariel and the Judea and Samaria College. Today, it is a partnership between the original founders and Ofer Technologies (a subsidiary of the Ofer Brothers Group) which lends its assistance in directing the operations of the Orit Center. The Orit Center provides the following services to R&D projects:
project evaluation and screening,
consulting,
raising the necessary capital, and
marketing and administrative support.
The procedure for accepting a project is as follows: Once a proposal for a project is submitted by an entrepreneur, it is evaluated by an expert committee and by experts of the Office of the Chief Scientists of the Ministry of Industry and Trade. Once approved, each project under the tutelage of Orit, is organized and registered as a private limited liability company. As mandated the project's entrepreneurs are granted 50% of the company's initial shares.

There are two critical periods in the life of any project. The first is technical feasibility and project funding. With this goal in mind, initial R&D funding of $350,000 is provided mostly by the government, through Orit, for the two years project's period. While this stage may be high-risk in terms of investment, it offers investors an opportunity to get in on the ground floor, with all its associated advantages.

The second critical period is the integration of production and marketing with the company's R&D results. At the stage investors can serve as strategic partners, providing the company with marketing capabilities, financial resources and production know-how.

The most effective way for an individual, or a group, to be involved in innovative start-up companies in Israel is to work in conjunction with government approved projects. The Orit Technological R&D Center takes this concept one step further by enlisting the aid of highly successful Israeli corporations such as Ofer Technologies.

A detailed list of investment opportunities will be provided upon request.