BIBLE QUIZ BRINGS TORAH ALIVE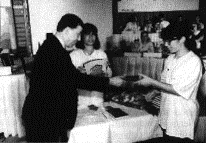 Similar in format to the renowned National Bible Contest in Israel, the First Annual Ariel Bible Contest was held in stages over a six month period. The first three stages, held separately in each of Ariel's 5 schools dealt with a variety of topics and included identifying Biblical illustrations and answering questions on video clips based on the Bible. These stages were open to ail school children from grades 4-8.

In the fourth stage of the contest, 30 young semi-finalists spent 3 days of learning, fun and activity, preparing for the finals at the Torah Academy in Shavei Shomron, some 25 miles from Ariel. The results of the three days of Torah activity resulted in a total of 15 finalists who participated in the last stage in front of a community audience.

Judges in this final stage of the Bible Contest were Elimelech Landner, Chairman of the Center For Religious Education; Rabbi Eliahu Aviad, Supervisor of the Ministry of Education; Sammy Meir, Chairman of Ariel's Education Department; Shai Aloni, Bible Contest Coordinator and Yo'av Schlossberg, winner of the world Bible Contest.

In presenting the award to contest winner, Yafit Mizrachi, a student in Ariel's Junior High School, Ariel Mayor Ron Nachman stressed the relevance of Biblical knowledge for Ariel children. "Here in the hills of Samaria, where we have made our homes, our forefather Abraham walked. We are living in the land of the Bible, practicing the traditions and the Torah of those who have gone before us."
---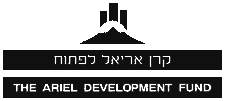 Back to the Cover Page and Article Index