Dear Friends,
Many of you may recall the "Peace With Security" dinner, American Friends of Ariel sponsored two years ago with guest speaker Benjamin Netanyahu, now Israel's newly-elected Prime Minister. We believed then, as we do now, that Mr. Netanyhu can negotiate a secure peace between the Jewish homeland and its Arab neighbors.
The dinner and the events held around the dinner were our small way of expressing support for Israel and for the people of Ariel. Living here in America, we cannot vote or stand on the front lines with the brave pioneers of Ariel, who are securing Israel's future for all of us. We can, however, let them know that we care.
During February 1997, we will once again be holding a dinner in support of Ariel in South Florida. Watch for the date and join us for an exciting and informative evening. With your help, we can continue to make a difference.
Let me take this opportunity to wish all of our friends a New Year of peace and health.
Sincerely,
Harry Posin
AFA Chairman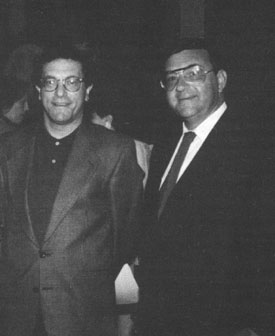 Canadian Friends of Ariel Chairman, Leonard Wolman (R) and American Friends of Ariel Chairman, Harry Posin (L)

Dear Friends,
On behalf of my family and friends in Montreal, I want to wish Mayor Ron Nachman and the Ariel family a Happy, Healthy and Peaceful New Year.
I know how complex the circumstances are in Israel and especially in Samaria. It is just a few months now since the election of Prime Minister Netanyahu and I am confident that he will provide much better leadership than the previoius administration and that the quality of life in Ariel will continue to improve.
The previous governement plunged Israel into a quagmire, on the verge of a PLO state being established, complete with an army and police of terrorists. The new government is now engaged in a serious mission to save Israel and promote the "settler" movement. There will inevitably be the normal shortfalls in the Netanyahu government, but at least it recognizes that we can learn from our glorious Jewish history and that Israel cannot survive as a Jewish nation unless it draws inspiration and guidance from it.
Ariel has successfully established a modern and beautiful city in an important part of Israel. It has the most enlightened and dynamic leadership in all of Israel, in its mayor, Ron Nachman. I am so proud to be associated with Canadian Friends of Ariel and hope that many of you will choose to take a more active role in furthering our goals. Together, we can help the City of Ariel grow and have their dreams fulfilled.
Sincerely Yours,
Leonard M. Wolman
CFA Chairman