The Buck Stops at the Green Line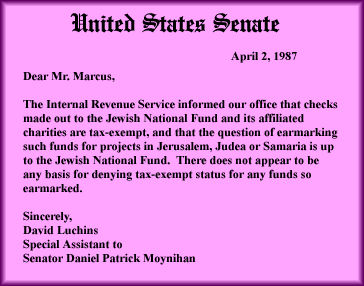 Establishment discrimination against Ariel continues
Since 1967, when Judea, Samaria, Gaza, East Jerusalem and the Golan Heights were reunited with the rest of Israel, established Diaspora philanthropies have limited their funding to projects within pre-'67 Israel. In other words, the major fund-raising drives for Israel have consistently refused to support projects in Judea, Samaria, Gaza and the Golan Heights, on the basis of geographical and political considerations.
Ten years ago, the Ariel Development Fund was established to enable the fledgling community of Ariel to receive support from Diaspora friends. These supporters were unable to direct their gifts to Ariel through the major Jewish philanthropies because of their discriminatory policies.
The people of Ariel were fulfilling the Zionist dream in much the same way that their predecessors had drained the swamps of the Galilee and made the Negev desert bloom. While the early pioneers enjoyed full Diaspora support, Israel's modern-day pioneers in Ariel can only rely on the loyal support of individual friends.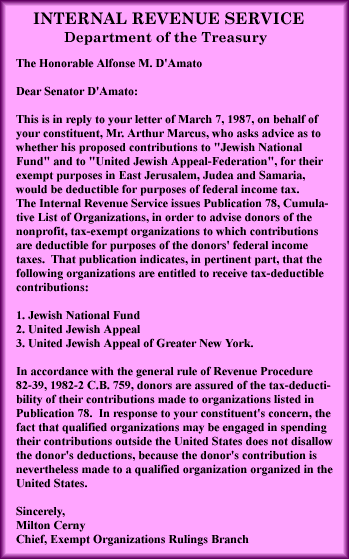 Many of the established Jewish philanthropies contend that U.S. law prohibits the transfer of tax-exempt donations to the communities beyond Israel's pre-'67 borders. This claim has been disproved effectively by documents and letters from the Internal Revenue Service and State Department (see examples).
Recently, Independent Media Review and Analysis (IMRA), a Jerusalem-based media-watch organization, commissioned a Gallup telephone survey to evaluate Israeli attitudes towards the American UJA policy which forbids funding beyond the "Green Line". The results were decisive. Israelis object to the ongoing discrimination against Jews living in Judea, Samaria and Gaza. Over 57% of the adults polled actively support aid to the communities beyond the "Green Line". Only 22% of those polled agreed with the current policy of establishment philanthropies.
Clearly, Israelis feel that regardless of politics, no community's humanitarian need should be ignored. While some UJA donors may object to a Jewish presence in Judea, Samaria and Gaza, this should not affect their willingness to provide for the social and humanitarian needs of the Jews in this area.
The core concept of the UJA is that the entire community supports the needs of Jews wherever they may be. Their donors are not entitled to identify the specific programs and projects that should benefit from their contributions. They should not be entitled to exclude certain needs from UJA benefits.
The Ariel Development Fund and their U.S. counterpart, American Friends of Ariel, call upon American Jewish communities everywhere to put a halt to this Jewish boycott of Jews in the eastern portion of Eretz Israel and to restore meaning and integrity to the theme of UJA campaigns: "We Are One". We are one people, wherever we live and we must continue to take responsibility for one another, regardless of geographic location.