FAITHFUL FRIENDS
Milkens Dedicate Ariel Cultural Center
Long-time Ariel friends, Sandy and Lowell Milken were on hand to dedicate Ariel's Cultural Center, a project the Milken Family had undertaken when building plans were just being drawn. They were accompanied by Mrs. Metukah Benjamin, educational director of the Stephen S. Wise Temple school in Los Angeles, Richard Sandler, director of the Foundations of the Milken Families and Rabbi Braverman of Aish Hatorah.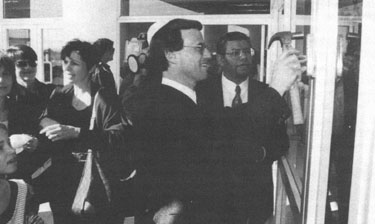 The dedication ceremony followed a tour of Ariel that included visits to the College of Judea and Samaria, Ariel's Child Development Center, the Bemard Milken Elementary School and some of Ariel's pre-schools. The ceremony, took place in the Community Center adjacent to the recently completed Municipal Library, both components of Ariel's Cultural Center.
The best of Ariel talents performed for the special guests: Ariel's Senior Citizen Choir, "Shir Balev", the community's pride and joy, the youth entertainment troupe "Lahakon Ariel" and rising star, Ilana Nulman.
Mayor Ron Nachman made a special presentation to Metukah Benjamm in gratitude for her involvement with Ariel. In presenting Sandy and Lowell Milken with a beautiful silver Chanukah menorah, the Mayor noted, "We are so grateful to you, not just for your donations but more, because we know that they are an expression of what's in your heart - your understanding of how important Ariel is as a strategic ally to the future of the Jewish people. Our future depends on our being strong and the Milken family has given us the strength to keep going."
In addressing the community, Lowell Milken explained his family's attachment to Ariel. "When we think of Ariel, we think of the warmth and determination of the people here. We like to support people who make a difference. Your mayor is certainly one of those people and each time we come to Ariel we see so many others making a difference in this community." Milken added, "It's easy to be a friend in good times but when times are difficult it is even more important to lend support. We will continue our support for Ariel because it is part of a partnership with people who have the ability to get things done."
Ultra-Sound Donated to Ariel
As the capital of Samaria, Ariel serves not only residents of the community but those of the surrounding communities, as well. Over 500 babies are born a year to failies living in the area.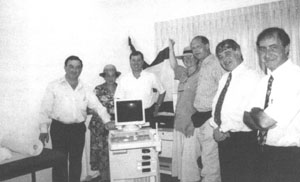 Yet, until recently none of Ariel's three medical clinics had ultra-sound equipment.
The Chawerim Association of Holland, understanding how important an ultra-sound would be to the health and welfare of area residents, donated this vital equipment to Ariel's Jonathan Clinic, named for Jonathan Netanyahu, killed in action during the Entebbe raid.
In a special ceremony held at the Jonathan Clinic, Chawerim members Greta and Stefan Van Der Blij and Association leader, Hannah Stranders, joined Mayor Ron Nachman, Deputy Mayor, Dr. Moodi Tamarkin and Clinic director Ya'akov Shaltiel to present the equipment to the medical center.
The Chawerim Association has also undertaken to "adopt" the Jonathan Clinic and are committed to continue to help provide medical needs for the people of Ariel and the region.