New Red Magen David First-Aid Station Opens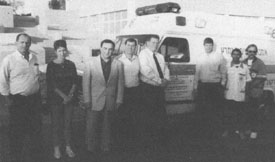 Judea and Samaria's first Magen David Adom emergency first-aid station was inaugurated in Ariel by Mayor Ron Nachman, Deputy Mayor, Dr. Mordechai Tamarkin and representatives of MDA and the various Health Funds in Israel. Dr. Tamarkin, in charge of health services in Ariel, stressed that we had waited over 10 years for this moment. He thanked Mayor Nachman for his tireless efforts in bringing about a change in MDA policy that would allow the station to be opened over the so-called "Green Line". Executive Director of MDA, Amos Luria, pointed out that additional first-aid stations would soon be opened in Ma'ale Adumim and Kiryat Arba.
Top Marks for Ariel's Swimming Pool
In a recent survey by a leading youth magazine in Israel, Ariel's community swimming pool was voted best-kept swimming pool in the country. The committee appointed to visit and grade various pools around the country looked at many factors, including cleanliness of the water and surrounding grounds, condition of chairs and sun umbrellas, the state of the washrooms and prices at the snack bar. Maxim Levy, manager of the community pool said he was proud to have the pool recognized nationally. He credited the dedication and hard work of the pool staff with the pool's success.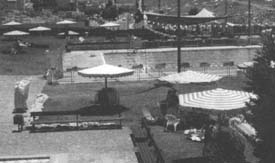 Housing Freeze Update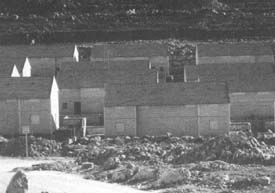 In 1992 immediately after the Rabin government came to power, all construction in Judea, Samaria and Gaza was "frozen". At the time, some 800 homes in Ariel were under construction, with an additional 1,200 in the planning stages.The 1,200 were immediately cancelled. Nearly 500 of the other 800 homes had not yet been sold. The Labor government allowed these homes to be completed but purchased them to prevent their sale.

In November 1994, 150 homes were "defrosted" due to a legal technicality and sold out within a month, leaving 320 "frozen" homes.

In August 1995, public pressure was brought to bear on the Housing Ministry and Mayor Ron Nachman succeeded in obtaining the release of most of the remaining homes. The Ministry, however, put extremely difficult conditions on the sale of these homes and only 180 apartments were sold.

Recently, Prime Minister Netanyahu announced the new government's decision to "unfreeze" construction in Judea and Samaria and release for sale all homes purchased by the previous government. At last the newest neighborhoods in Ariel will come to life, bringing to a close what may have been the saddest chapter in Ariel history.
Television Station Opens
Community television has arrived in Ariel. Broadcasting on the cable network, Channel 45 brings city residents news and entertainment produced locally. Equipment was provided by the Ariel Development Fund and the Community Center sponsored a course to train the first staff members of the local station. Students studied filming, screen-writing, editing and production. Future plans include regular broadcasts of local sports events.
Community Action Program
Just one year ago, Ariel's Community Center, together with the city's Department of Social Services, began a community action program for volunteers. The goal of this program is to develop leadership in all fields of community service and to instill in these volunteers a deep sense of concern for their community.
Esther Dagan, director of the program, explained how the project came about: "In the four years I have been working for the Community Center, I saw more and more wonderful people willing to give of themselves. As this "family" of doers grew, I became convinced that Ariel would benefit greatly if we could direct this spirit of volunteerism to community needs. Thanks to Social Services director, Shosh Levavi, and Community Center director, Varda Levy, the idea has become a reality".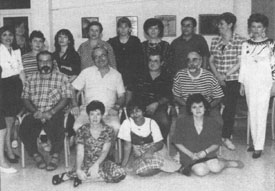 Program participants have gone through a full year of training in various fields to give them the tools to become more and more effective in the community. At the end of the year, each participant was asked to present a project that would benefit the community. The ideas were both innovative and inspiring. The projects were compiled and distributed to all department heads in Ariel. Some of the ideas have already been implemented. One particular idea is worthy of note.

One of the participants suggested the founding of an Ariel branch of Yad Sarah, a non-profit organization which loans medical equipment (wheelchairs, crutches, respirators, etc.) to people in need. A small group has already been formed and are working to raise the funding necessary to open a local branch of this important organization. The Community Action Program is already deemed a success in Ariel. We hope that all those involved will continue their dedicated work for Ariel and that the Community Action Program will continue to train new leaders in Ariel.
College of Judea Samaria Awards Degrees
For the first time in its history, the College of Judea and Samaria awarded B.A. degrees in the social sciences. Sixteen students completed the degree program, which is under the supervision of Bar Ilan University. Half of the graduates have already begun studying for their Master's degree.
The ceremony began with an academic procession of graduates, followed by professors, deans and lecturers from both the University and the College. Ariel resident, Emanuel Ya'akov, who received a B.A. in political science, welcomed those in attendance and spoke of a dream that had come true for him, the dream to combine work and study.
During the ceremony, scholarships funded by the regional council and the Jewish Agency were awarded to married undergraduate students living in Samaria. An honorary degree was also awarded to Professor Ephraim Katzir, fourth president of the State of Israel and member of the Board of Trustees of the College. In recognition of his contribution to Israeli society, the College announced its decision to name the chemistry and bio-technology department in his honor.
New Movie Theater in Ariel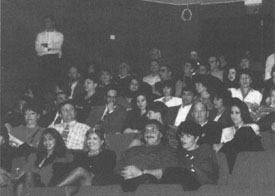 Early this year, Ariel opened its first movie theater, part of the Globus Group chain of theaters in Israel. Located in the high school auditorium, the theater seats over 200 people in air-conditioned comfort. With a giant screen and cushioned seats, Arie1's new cinema can rival the best theaters in Israel. Mayor Ron Nachman can take credit for the establishment of the new theater. A real movie buff himself, Nachman did not rest until he found the appropriate company to establish a theater in Ariel.