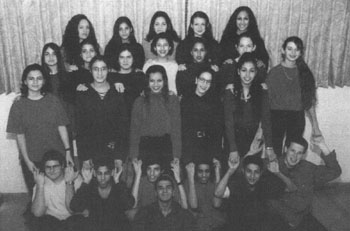 AMERICA DISCOVERS ARIEL TALENTS
It was a dream come true for the 24 members of Ariel's youth entertainment troupe, "LAHAKON ARIEL" and an experience they will remember for many years to come.
The troupe was chosen to represent Ariel on a whirlwind concert tour in the United States. The schedule arranged for these youngsters, ranging in age from 14 to 18, would have exhausted even veteran performers, with eleven concerts in only ten days. The Lahakon was accompanied by their artistic director Arik Yakubovitch, and choreographer Dafna Shpilman.
Dina Shalit, executive director of the Ariel Development Fund also joined the Lahakon on their tour. "It was a joy to travel with them", Shalit said. "They are truly an example of the best of Israel's young people. They are talented, motivated, well-behaved and so very proud of their hometown, Ariel. And we in Ariel are very, very proud of them."
Dov and Tzila Keren, former residents of Ariel, arranged the first portion of the tour, where the Lahakon were guests of Temple Israel of Jamaica, New York. Housed with congregation families, the Ariel teenagers became fast friends with the hosting youngsters in each family.
For most of the Israeli young people, this was a first visit to America, and they were thrilled with everything they saw and experienced... enormous malls, American cars, beautiful homes and public buildings and, most of all, the warm reception they received throughout their tour. This enthusiastic reception spilled over into each and every concert.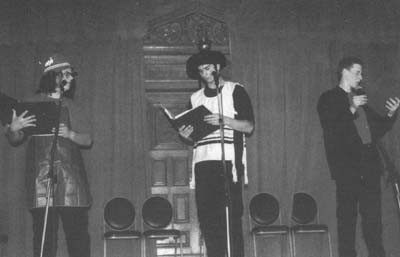 In synagogues, universities and schools, the response to the Lahakon's performances was overwhelming as their American counterparts sang along, danced in the aisles and cheered. Every new performance brought a standing ovation and devoted fans followed the group from concert to concert. Copies of "Shalom From Ariel", the group's CD, prepared especially for the American tour sold in great numbers and Lahakon members were surprised and delighted at the numerous requests for autographs.
The second half of the Lahakon's concert tour brought the group to Los Angeles. This portion of the concert tour was coordinated by Metuka Benjamin, educational director of the Stephen S. Wise School. The teens were guests of the Stephen S. Wise community and enjoyed their warm and welcoming home hospitality.
Mrs. Benjamin, determined that her Israeli guests have some pure fun time, arranged for the Lahakon to visit Disneyland, Universal Studios and a variety of other tourist attractions in the area.
The highlight of the tour was the Lahakon's final concert in the Stephen S. Wise Temple. Performing to a capacity crowd, The Lahakon "wowed" the audience with a full repertoire of Hebrew and English songs and dramatic performances. Ariel's talented youngsters not only served as outstanding representatives of their community, but truly won the hearts of our American friends.